2009 K8RALLY
Welcome to K8RALLY.COM, the 2009 K8RALLY will leave in
The 2009 K8RALLY has had a big change!! After speaking with the existing participants we have decided to run the 2009 K8RALLY, but at a discount cost of £3200 (£1600 each). This will include a weeks holiday with all the best luxury accommodation, the best freshly cooked meals, the best cocktail receptions, and the most exclusive parties....
In August 2009 the first ever K8Rally will launch. With up to one hundred and twenty super cars poised, their engines growling and an immense sense of excitement in the air it's going to be one hell of a drive.
The K8Rally leaves Glasgow on the 10th of August and storms into Madrid 6 days later. The shared passion for all things automotive will create an intense atmosphere as the K8Rally powers through country after county, each night stopping off to savour the delicacies and experience the best nightlife that Europe cities have to offer. The sheer presence of the K8Rally will attract a crowd wherever it goes.
The 2009 K8RALLY will be travelling to :-

1) Glasgow - London
2) London - Paris
3) Paris - Milan
4) Milan - Monaco
5) Monaco - Barcelona
6) Barcelona - Madrid

@ A total of 2224 Miles

There will be cocktail parties at every destination followed by a meal, live DJ's, and a non stop party.

The price for the 2009 K8RALLY is, £3200 for 2 passengers per car (1 driver - 1 passenger) This will include, Entry in to Rally, 1 x Bottle of Special Edition K8RALLY Champagne on arrival to Madrid, 6 Nights in luxury accommodation, Breakfast and Dinner, 1 x Train ticket from England - France (for second leg of K8RALLY) & free K8RALLY merchandise)
If you require any extra passengers for the 2009 K8RALLY please note and extra charge of £1500 for each passenger.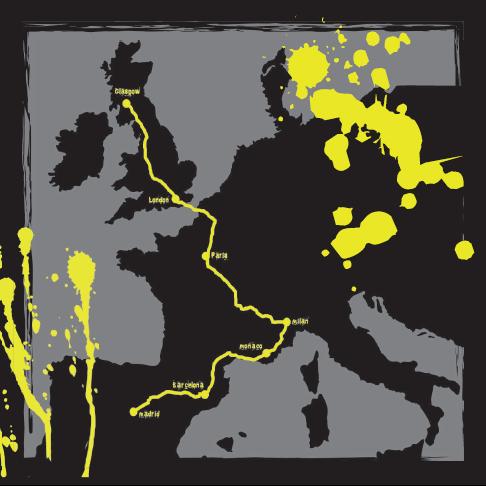 Info Request
To request more information or to become part of the 2009 K8RALLY, please submit your details below and we will contact you shortly.